Helping Teens with Stress, Anxiety and Depression
Do you struggle to know when or if it's appropriate to step in to help a teen who seems stressed, anxious, or depressed? Do you know the signs to look for to determine whether a teen is in distress?
In Helping Teens with Stress, Anxiety, and Depression, Roy Petitfils—a Catholic author, speaker, and psychotherapist—offers his personal experience, advice, and faith to give parents, pastors, and youth leaders the knowledge, courage, and tools they need to step in, make a difference, and be the presence of Christ for teens in crisis.
Roy Petitfils knows what it's like to be an addicted, depressed teenager, filled with self-loathing and desperate for help. He describes himself at high school graduation as by far the largest person in his hometown and yet feeling as though he were "stuck in Harry Potter's invisibility cloak." Weighing more than 500 pounds, he was addicted to food and hated himself.
Now a leading Catholic voice in youth advocacy and creator of the popular podcast Today's Teenager, Petitfils entered adulthood a very different person than he is today. His life was radically changed by a handful of people in college who reached out in friendship and helped him set a new course.
Using personal life lessons and expertise gleaned from more than twenty-five years in youth ministry and private practice as a licensed counselor, Petitfils teaches parents, pastors, and youth leaders what they need to know about mental health issues among America's youth. Whether teens need help coping with healthy levels of stress or face persistent, more serious problems with anxiety and depression, Petitfils will help the adults in their lives get comfortable with stepping in.
Petitfils offers information and advice on:
the major causes of stress and anxiety in teens today
differentiating healthy stress from toxic stress
simple steps to take after identifying a hurting kid, beginning with how to assess whether and how to step in
the art of listening
He explores the support and comfort available through the sacraments, Catholic devotions, different forms of prayer, and reading the Bible. Ultimately, Petitfils identifies how to gently, yet persuasively guide hurting young people to deeper trust in the tender mercies of God.
What Teens Want You to Know (But Won't Tell You)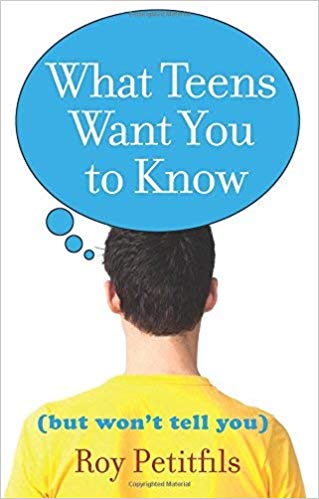 From over two decades of listening to young people tell him things they were not telling their parents or anyone else, Roy Petitfils learned that often what teens think and feel most deeply might not be what you think. Young people struggle to find their own voice—in their families, in the Church, and in the larger world community. Too often teenagers take their needs and concerns underground and share in secret their hurts, fears, and disenchantment. They console one another because for many the adult world isn't a safe place for them.
What Teens Want You to Know gives voice to ten things young people want adults to know but won't tell them. It discusses such issues as your relationship with a teen, acceptance of teen behavior, teens' desire to serve, and much more.
Petitfils assures you that young people want  to include adults in their lives. With his guidance, you can help them do that.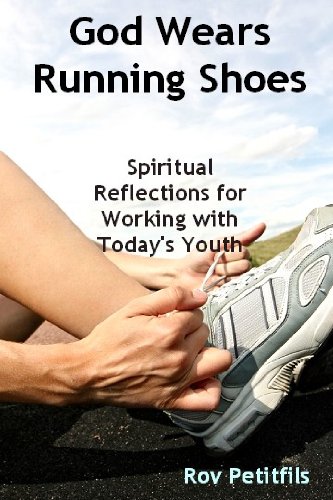 Raising and working with young people can be exhausting and exhilarating at the same time. Sometimes parents, teachers and ministers begin to wonder if they are really making a difference. God Wears Running Shoes is inspired by the parable of the Prodigal Son. In its short easy to read chapters we are reminded that ultimately our young people belong to God, and it is this God who runs beside us chasing after the hearts of our kids.
What I Wish Someone Had Told Me About the First Five Years of Marriage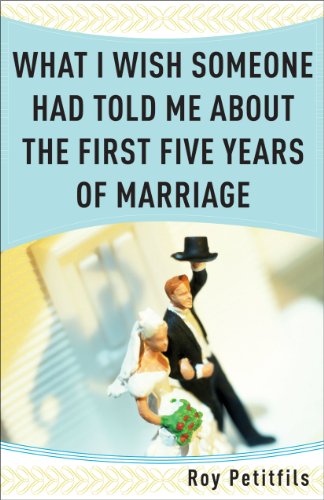 How does a newly married couple make happily ever after really happen? Is marital bliss a myth or something truly attainable in the first years of marriage?
Roy Petitfils has spent many hours listening to married couples try to work out their problems. He knows firsthand as a spouse and father of two that to have a lasting, fulfilling and happy married life, a couple needs to plan, work hard, and dedicate themselves to making their marriage work. If couples can make it through the pivotal and life-changing first five years of marriage without a lot of collateral damage, hurt feelings, and miscommunication, then the likelihood of making it through a lifetime together is significantly greater. With stories from friends, clients and his own marriage, Roy Petitfils provides practical–and often humorous–tips for anyone preparing for marriage or already married.